Magazine Gift Subscription Ideas
Whether you're looking for a gift for a gardening lover, foodie or even a crafter who enjoys knitting, sewing, cross-stitching and more, we have the perfect magazine. Give the gift that keeps giving with a yearly subscription, so your friends and loved ones can read and discover the latest about their hobbies and interests.
The benefits of a magazine gift subscription:
Enjoy a subscription throughout the year
Choose from over 30 different magazines
Delivery straight to their door
All delivery is included
Shipping worldwide
Secure online payment
Begin searching our magazine gift subscriptions with one of our great offers below, or view all here.
Magazine Gift Subscriptions for Gardening Lovers
Find the perfect gift for the green fingered gardener with BBC Gardeners' World magazine and Gardens Illustrated magazine.
Magazine Gift Subscriptions for Foodies
If it's foodies you're looking to surprise with a gift subscription then look no further than BBC Good Food, BBC Easy Cook and olive magazines.
Magazine Gift Subscriptions for Crafters
From cross-stitching to knitting, cardmaking to sewing, you're sure to find the perfect magazine to keep every level of crafter inspired with projects all year.
Magazine Gift Subscriptions for Knitters
If you're looking for knitting or crochet gifts, we have a magazine for anyone who has a passion for yarn with inspirational patterns and top tips.
Magazine Gift Subscriptions for History Buffs
Discover a range of history gift magazines with BBC History, BBC History Revealed and Who Do you Think You Are? Magazines.
Magazine Gift Subscriptions for Science & Nature Enthusiasts
We have an unrivalled collection of publications, each with an authority on its subject, including BBC Science Focus, Sky at Night, Wildlife and Countryfile magazines.
Magazine Gift Subscriptions for Cyclists
Whether you're looking for a gift subscription for a road cyclist, mountain biker or triathlete, our selection of cycling and triathlon magazines are crafted by some of the best sports riders and runners.
Magazine Gift Subscriptions for Children
Match of the Day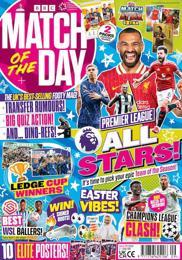 12 months for £42.99
Saving 10%
How do I send a magazine subscription as a gift?
Click on the magazine you would like to order and click 'Buy Now'
During the checkout journey, select to deliver to a different address and enter your recipient's details
Choose the start date of their subscription – to ensure their first issue arrives after any special occasions
Which magazine gift subscription should I choose?
Gardening Gift Magazine Subscriptions: BBC Gardeners' World caters to both new and experienced gardeners, helping them get the best from their garden. Among other perks, subscribers gain access to the Secret Garden, a subscriber-only area of gardenersworld.com and free seeds with spring issues. Garden's Illustrated is perfect if you're looking for a magazine filled with stunning planting suggestions, ambitious design ideas and spectacular photography.
Cooking and Food Gift Magazine Subscriptions: As the UK's number 1 food magazine BBC Good Food is filled with brand-new recipe ideas for readers who want easy weekday dinners, showstopper surprises, projects for families and more. BBC Easy Cook is great For busy families in need of quick, healthy food ideas. Or opt for olive if you're looking for a gift for someone who loves learning new recipes but also discovering the hottest new restaurants and food-inspired travel ideas.
Craft Gift Magazine Subscriptions: Mollie Makes is great for an inspiring range of projects including, crochet, sewing, embroidery, knitting, papercraft and upcycling. Simply Sewing is filled with easy-to-follow projects and useful tips and tricks. If you're looking for a cross-stitching gift, The World of Cross Stitching is the magazine to inspire every level of stitcher. Alternatively, Today's Quilter features new ways to create beautiful quilts for intermediate to experienced quilters.
View our full portfolio of gift craft magazine subscriptions here.
Knitting Gift Magazine Subscriptions: Simply Knitting is filled with inspiring knitting patterns for all the family. Whereas, The Knitter is great for more experienced knitters, with 10 challenging patterns each month. Simply Crochet is the perfect present for both crochet lovers and learners.
History Gift Magazine Subscriptions: BBC History Magazine is the ultimate authority on the people and events that changed the world. If you're looking for a gift all the family can enjoy, while BBC History Revealed uncovers events in a visually compelling way. Or look closer to home and uncover the mysteries of your ancestors with Who Do You Think You Are? Magazine.
Science and Nature Gift Magazine Subscriptions: For those who like to keep a finger firmly on the pulse of modern-day science, look no further than BBC Science Focus. Become immersed in the glories of the great British countryside with BBC Countryfile and get closer to the wonders of the natural world with a BBC Wildlife Magazine subscription. Or for astronomy lovers, BBC Sky At Night is the perfect gift.
Cycling and Triathlon Gift Magazine Subscriptions: For road cyclists, Cycling Plus is a fantastic magazine for a mix of inspirational rides and riding-related features. Mountain Biking UK is the ultimate magazine for mountain bikers and 220 Triathlon is the perfect training partner for swim, ride and run faster.
Best magazine gift subscriptions
BBC Gardeners' World Magazine

Why we love it: Gardeners' World is caters to every level of gardener, aiming to help readers get the best out of their garden. Subscribers also receive extra benefits including Subscriber Club membership, 2-for-1 Gardens Entry Card and Guide with the May issue, subscriber only events and free seeds with selected issues.

Why our customers love it: "A very interesting read each and every month! I have enjoyed Gardener's World on TV and the magazine for a number of years and find that the magazine allows me to more easily research some more difficult tasks and problems in and around the garden. The 2 for 1 entry to various gardens around the UK is an added bonus."

BBC Good Food Magazine

Why we love it: BBC Good Food has been Britain's best-selling food magazine for the past 30 years, and for good reason. Each issue supplies easy to follow and delicious recipes that will boost confidence in the kitchen whatever the level of experience.

Why our customers love it: "Absolutely love this magazine, packed full of ideas and recipes have already made some and they went down very well with the family. Cannot wait for the next one to arrive."

BBC History Magazine

Why we love it: BBC History explores a range of British and global history bringing it to life in an accessible fashion. Contributors include many of Britan's most notable historians and the magazine also includes an extensive book review section.

Why our customers love it: "Brilliant magazine. I often find interesting articles outside my interests that open up my ideas of history."

Radio Times Magazine

Why we love it: Radio Times provides readers with easy-to-use listings across over 100 channels and daily recommendations from our team of experts for TV, film and radio.

Why our customers love it: "The Radio Times listing is perfect and I am spoilt for choice for interviews and behind the scenes information."

BBC Countryfile Magazine

Why we love it: Countryfile Magazine is filled with inspiration for making the most of the British Countryside, from the best walks and nature reserver to market towns and villages to tick off your list. This magazine is perfect for those looking to get to know their rural surroundings.

Why our customers love it: "Countryfile magazine helped put a spring in my step! Very easy to organise the subscription online. My first magazine arrived as promised and quality was excellent and content interesting."

BBC Top Gear Magazine

Why we love it: Top Gear Magazine brings car enthusiasts closer to their passion with expert reviews, stats about new cars, the latest from the world of motorsport and more.

Why our customers love it: "Big fan of the Top Gear team (especially Freddie) and I love their style which is reflected in the magazine. It's always packed with interesting features and tests."

Match of the Day Magazine

Why we love it: Match of the Day brings footy mad kids closer to their heroes with exclusive interviews, the latest news and stats.

Why our customers love it: "Brilliant magazine, full of fun things to do from puzzles to mini quizzes, keeps my son occupied as he loves football and bonus you get some playing cards too, delivery of first issue came in perfect condition."

BBC Science Focus Magazine

Why we love it: Science Focus is perfect for those who are curious about how the universe works. Full of engaging articles on everyday science, incredible breakthroughs and accurate analysis.

Why our customers love it: "Absolutely packed with interesting articles and observation. Lots and lots to think about, and well presented."

Mollie Makes Magazine

Why we love it: Mollie Makes is full of a multitude of different crafting ideas for all levels. This magazine inspires readers with fresh ideas and old favourites such as embroidery, needle punch and knitting.

Why our customers love it: "Mollie Makes never fails to amaze me. I always learn something new and have a list as long as my arm, of all the things I want to buy."

BBC Wildlife Magazine

Why we love it: BBC wildlife guides you through the natural world, allowing subscribers the to get closer to the the wonders of wildlife and habitats.

Why our customers love it: "BBC wildlife is a fantastic magazine for those of us passionate about wildlife and nature. I have buying it in stores for years. Now I am really happy to have a subscription which is good value, but which guarantees delivery, even if I forget."