BBC Gardeners' World Magazine Subscription
Make the most of your garden with Britain's best-selling gardening magazine.
Whether you're a new or experienced gardener, the experts from BBC Gardeners' World Magazine are on hand to help you get the very best from your garden. Every issue includes inspiring features from your favourite TV gardeners including Monty Don, Alan Titchmarsh and Carol Klein, meaning you really will be learning from the very best. From growing your favourite flowers to success with delicious homegrown veg, you'll find everything you need to keep on top of key monthly tasks. Plus discover how to garden with wildlife in mind, choose the best gardening kit for your budget, and keep your garden and houseplants looking their best. We share inspiration and solve seasonal gardening problems.
Best of all, when you take out a subscription, you'll automatically become a Subscriber Club member. This comes with a whole host of exclusive benefits including:
Free delivery direct to your door, so you never miss an issue
Enjoy unlimited Premium digital access to our subscriber-only area of GardenersWorld.com
Reward pages and Extras section, with extra content in every copy, plus exclusive money-saving offers, competitions and discounts
A 2-for-1 Gardens Entry Card and Guide with the May issue and a calendar with the December issue
Subscriber only events and opportunities to meet the magazine's experts
BBC Gardeners' World Live extras including ticket savings
Begin your BBC Gardeners' World Magazine subscription today with one of our great offers below.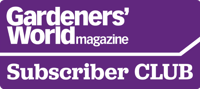 Amazing Subscriber Club benefits
Enjoy Secret Garden – the Subscriber-only area of gardenersworld.com packed full of extra features, videos and offers. Once you subscribe to the magazine we'll send you a link to gain instant access.


---
Customer Testimonials
"A great present which is delivered to the door every month and lasts a whole year."
"A great way to send a ray of sunshine from afar. We both get the same magazine so have something new to share and to chat about."

"Avid watcher of Gardeners World on BBC2 - love the magazine so full of helpful tips too"
---
BBC Gardeners' World Magazine is the UK's No.1 gardening publication – and with good reason. Full of inspiring features from your favourite TV gardeners, Monty Don, Carol Klein, Alan Titchmarsh and many more all share the expert advice every month to help you get the very best from your plot. Much of the content is created in the presenters own gardens too, meaning you'll get an exclusive look at how the experts do things at home.
There are lots of added extras to enjoy through the year too, including free plants every month and a beautiful calendar with our December issue. And don't miss our 2-for-1 Garden Entry Card & Guide – this much-anticipated annual highlight with our May issue gives you 2-for-1 entry to hundreds of gardens nationwide.
As a Subscriber to the print magazine you get extra benefits too, including free unlimited access to GardenersWorld.com Premium, an exclusive subscriber-only area of GardenersWorld.com that's packed with guides, videos and Q&As with our experts - all created just for you. Plus, every Subscriber magazine includes Reward pages and Extras section, meaning you get extra content in every copy, plus exclusive money-saving offers.
Whether you're new to gardening or have a few years of experience, there's something for everyone in every copy of BBC Gardeners' World Magazine. From planting beautiful containers and creating your best-ever flower borders, to discovering our best-buy kit, encouraging garden wildlife and enjoying a homegrown harvest, you'll always find something to feed your gardening passion. So take out a BBC Gardeners' World Magazine subscription today and join the GW family – we'd love to have you on board!
A monthly subscription also makes a great gift idea for any gardening enthusiast. Click Give a Gift to find out more.
Q. When will my subscription start?
A. You can choose the first issue of your subscription during our checkout. If you are buying as a gift you can make sure their first magazine does not arrive before a certain date. If you do not select a future date your first magazine will be the next issue available. We are unable to start a subscription for a previous issue or the latest copy on sale in shops. When you subscribe through buysubscriptions.com you will receive an order confirmation email stating the date of your first issue.

Q. I selected an offer with an Added Extra. When will this arrive?
A. If the subscription offer you select includes an Added Extra we will send it to the address of the person paying for the subscription. Our Added Extras are sent separately from the magazine and will arrive within 28 working days of your payment being processed. Added Extra items are currently only available for delivery within the UK.

Q. How can I keep track of my subscription or change my delivery address?
A. By creating an account on buysubscriptions.com you are able to see when your next issue is due, how many issues you have remaining on your current payment, change your delivery address, and renew your subscription.
Q. How will I receive my free seeds?
Your free packs of seeds will be included loose with your monthly UK subscription copies until June 2022 issue. Promoted seeds are available for UK subscribers only, are subject to availability and may be substituted for seeds of a similar variety.
Q. Why were free seed packets only available to mainland UK delivery addresses?
Unfortunately due to new restrictions on moving plants and seeds overseas, we were not able to provide free seeds on subscription copies to Republic of Ireland, EU and ROW delivery addresses.
Q. How do I cancel my BBC Gardeners' World subscription?
If you pay for your subscription by direct debit or other continuous payment, please visit our subscription cancellation service to easily cancel your subscription online. If you do not pay by direct debit, please contact our helpful customer service team on 03330 162 139.
BBC Gardeners' World Magazine Gift Subscription
It's the gardening gift that keeps on giving.
Your gift subscription of BBC Gardeners' World Magazine will be delivered direct to the receiver's door, so you know they will continue enjoying your gift with no fuss.
Ordering online couldn't be easier – click 'Buy Now' above and during our checkout all you have to do is:
Select to deliver to a different address and enter your recipient's details
Choose the start date of their subscription – to ensure their first issue arrives after any special occasions
Set up a BuySubscriptions account so you can manage your gift subscription online and easily renew it over and over again to ensure your family member or friend never miss an issue
If you're looking for a gift idea your loved one can enjoy every month buy them a BBC Gardeners' World Magazine subscription today.