Save on a yearly subscription to BBC Gardeners' World Magazine this Christmas and choose an amazing gardening bundle!


Christmas Bundle - only £44.99 every 12 issues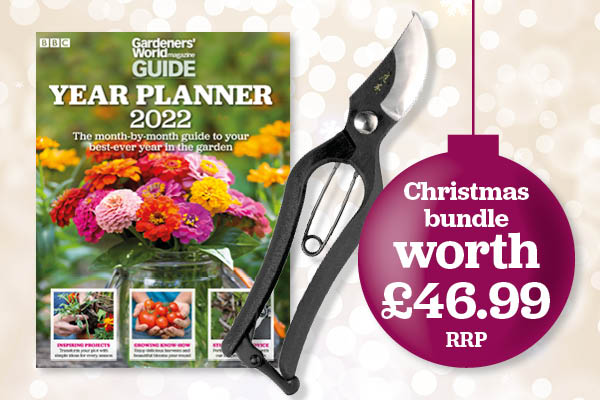 Pay just £44.99 every 12 issues and receive our Christmas bundle worth £46.99 RRP:
✔ A Pair of Niwaki Sentei Secateurs - worth £39
Your new drop-forged carbon steel secateurs feature a soft spring action and a simple lock catch at the bottom - perfect for light garden pruning.

✔ The BBC Gardeners' World Yearly Planner 2022 - worth £7.99

Premium Bundle - only £59.99 every 12 issues*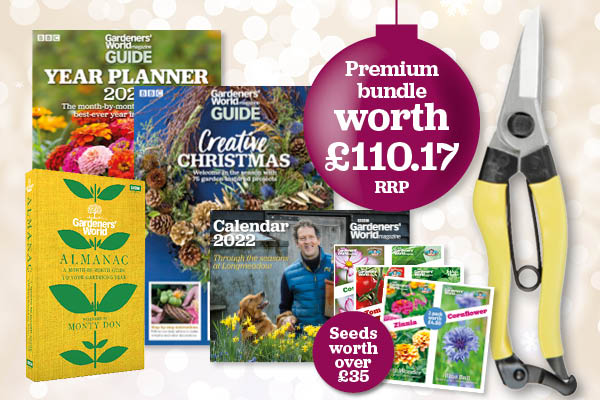 For just £15 more, select our fantastic premium bundle worth £110.17 RRP and you'll receive all of this:
✔ A set of Niwaki Mainichi Snips - worth £39
The perfect everyday snips for harvesting, cutting back and light pruning in the garden, featuring an easy-to-use catch.

✔ The BBC Gardeners' World Yearly Planner 2022 - worth £7.99

✔ BBC Gardeners' World Calendar 2022

✔ The Gardeners' World Gardening Almanac - worth £16.99
The ideal month-by-month guide to your garden year, with a special introduction from Monty Don.

✔ The BBC Gardeners' World Christmas Guide - worth £7.99

✔ Seeds - 11 varieties of seeds - worth £35 (seeds included below)
Seeds - part of your premium bundle
When you select the Premium Bundle, you'll receive the 11 varieties of seeds worth £35 below:
Cosmos and Lettuce
Rudbeckia and Sunflower
Carrot and Parsley
Tomato and Basil
Zinnia and Cornflower
Cayenne Pepper
BBC Gardeners' World Magazine
Whether you're a new or experienced gardener, the experts from BBC Gardeners' World Magazine are on hand to help you get the very best from your garden. Every issue includes inspiring features from your favourite TV gardeners including Monty Don, Alan Titchmarsh and Carol Klein, meaning you really will be learning from the very best.
Subscriber Club
When you subscribe, you'll automatically become a Subscriber Club member and receive a whole host of exclusive benefits:
Free delivery direct to your door, so you never miss an issue
Secret Garden access – a special Subscriber-only area of gardenersworld.com
Reward pages and Extras section, with extra content in every copy, plus exclusive money-saving offers, competitions and discounts
A 2-for-1 Gardens Entry Card and Guide with the May issue and a calendar with the December issue
Subscriber only events and opportunities to meet the magazine's experts
BBC Gardeners' World Live extras including ticket savings
Free seeds with your monthly copy from February to June 2022 issues
Terms & Conditions
These offers are only open to new UK Direct Debit customers. There are only 1,000 premium bundles available to the first 1,000 subscribers. You will pay £44.99 every 12 issues when subscribing with the Christmas bundle. *When subscribing with the Premium bundle you will pay £59.99 for your first 12 issues, then £44.99 every 12 issues thereafter via Direct Debit. Due to restrictions on moving plants and seeds overseas we regret that we are unable to offer the Premium Bundle to customers in Northern Ireland.